Since the personal computer became a business necessity, companies have been investing in many different software options designed to make their bookkeeping tasks easier. Let's face it, managing your finances is time consuming and can be a real headache unless you happen to have a degree in accounting. Since most small business owners do not, accounting software can be a very attractive option. Some programs may require a one-time investment. Others, especially cloud-based programs will charge using a scheduled plan. There have been many accounting software firms over the years. However there is a short list of common accounting software options that are the most notable.
Though we recommend partnering with an experienced financial firm like Landwehr Financial Solutions, for many small businesses accounting software can be helpful when used in tandem with professional services. This article will highlight those notable software programs to help guide you in finding the right software to meet your small business needs.
QuickBooks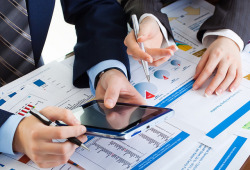 Quicken by Intuit has been the stalwart program in the realm of accounting software. Developed in the early 1980's, it has largely dominated the market since. As the hardware technology advanced, the need for a more robust program was called for and QuickBooks was born. Different studies vary on the actual market share that QuickBooks holds, but range from 80 to 95%. The software is available in many different markets with versions to accommodate several industry-specific applications.
Equally popular is QuickBooks Online. This is Intuit's cloud-based version of the software and users pay a monthly fee to access their secured information from any device wherever internet access is available. QuickBooks Online also dominates online accounting software with over 624,000 subscriptions.
QuickBooks and QuickBooks Online have gained their popularity for a reason. Arguably the best option for small business users, the software provides double-entry accounting tools, customization, and an easy to use interface. It can create custom invoices with your own logo and has numerous features that help with all areas of your accounting including payroll, expenses, income, and tax reporting.
FreshBooks
FreshBooks is a relatively new option with the initial version being launched in 2004, however it's ease of use combined with great functionality has made it a strong competitor to the colossus QuickBooks. Highly praised for its level of quality support, in 2013 the company was awarded the Stevie Award for best customer service. It operates on a monthly fee similar to QuickBooks Online, and is also fully based in the cloud. The full online version is extremely user-friendly. It packs a powerful punch yet is simple enough for almost anyone to navigate.
Another thing that FreshBooks has going for it is the phenomenal mobile platform it provides. Their mobile app is exceptional and allows small business owners to completely manage their finances through their smartphone. The navigation is very easy and a user can bill a client on the spot and instantly send a custom invoice to their email. The option is also available to mail a hard copy of invoices to your customers after paying postage and a very small handling fee.
Sage50 and SageOne
Formerly known as Peachtree Accounting, Sage delivers two fantastic options that are backed by over 30 years of experience in accounting software for small businesses. The great thing about Sage 50 is that it is carefully designed to target and meet the needs of small businesses exclusively. With service for accounting, billing, customer management, vendor management, payroll processing, financial reporting, and even inventory, it really delivers. You can print over 140 different reports and fields can be customized and tracked for whatever you need.
Also similar to QuickBooks, Sage has numerous options and versions available. Sage50 is a desktop application while SageOne is the online cloud based version. The Sage programs are also known for their ability to follow trends in the market. Updates are regularly released for users updating the programs to match what's really going on in their respective industries.
Zoho Books
Zoho Office Suite is a collection of online cloud based software options designed to function seamlessly and provide small businesses management of their entire operations. The Zoho software options can also be used independently and Zoho Books is the accounting program that many use for its complete visibility of their books. Zoho Books is a great option for freelancers and other very small businesses.
One thing that Zoho does really well with their program is how easy it is to integrate the software with other applications including Google Apps, Google Checkout, PayPal, Authorize.Net, and of course their own suite of business solutions. Zoho also uses a monthly fee system however a year of service can be purchased at a discount.
AccountEdge
AccountEdge is a popular choice because the software is all-inclusive. Each aspect of small business accounting is included in the package eliminating the need to purchase add-ons or additional modules. Until recently, AccountEdge was available only in a desktop version however they recently added an online option to meet the trend of cloud based computing. Regularly updated with improvements and added features, AccountEdge is a comprehensive solution that you can depend on. In fact, it's dependability is the company's focus and they do it well.
AccountEdge works very well for growing companies including those who are expanding into multiple locations, even if it's across the globe. It also has a very powerful and dependable version for Mac OS. Reporting options are many and the ability to export in a wide range of formats with ease is included.
How to Choose?
Choosing the right software is a big decision that can have a major affect on your profitability. Making sure you have the right program in place is becoming increasingly important. Before you make a decision, examine your business and complete a thorough needs assessment. Think about where your business is at, and where you expect it to go in the future. Next, do your homework. Spend some time digging deep to find out the features, benefits, and even disadvantages to all the different accounting software you are considering. Find the one that best matches your needs, and take the time to learn how to use it. It's always a good idea to discuss any decision on purchasing and implementing a software program with an experienced financial professional. Their input can help steer you to the right program for you.
Landwehr Financial Solutions can provide that help and make sure you choose a business accounting software that will boost productivity, meet your needs, and help you to remain profitable. And, Landwehr Financial Solutions offers many ways to assist small businesses with all their tax and accounting needs. Contact us today to learn more about our services and experience first-hand the level of care we give to all our clients in the St. Cloud MN area.